Wolf Hollow by Lauren Wolk
This is not an easy book to read. While I enjoyed it, it contains a lot of bullying that ends with horrible consequences. Annabelle is a sweet, pre-teen girl growing up in the aftermath of the world wars. A new girl, Betty, shows up and torments Annabelle. Annabelle is scared to tell anyone because Betty says she will harm Annabelle's younger brothers if she tells. Meanwhile, Betty continues to grow more vicious and Annabelle isn't her only target. There is a World War I veteran named Toby that wanders around the properties in Wolf Hollow. Toby is shy and keeps to himself and maybe people fear him or think he is strange, but Annabelle's family has always been kind to him. Betty starts causing trouble for Toby in horrible ways and Annabelle finally decides to tell her parents about what Betty has been doing when her friend Ruth gets really hurt. Tensions increase as people try to find out the truth of what's going on and who is behind all of the bad things happening in Wolf Hollow. All in all, this book is about kindness, justice, and doing the right thing.
Note to parents: this book includes dangerous acts of bullying and children are harmed in the book. Keep this in mind before you let younger readers read this. My recommended reading level for this book is ages 13 and up. (Photo credit: www.amazon.com)
The Curse of the Chocolate Phoenix by Kate Saunders
This book is a companion novel to
The Whizz Pop Chocolate Shop
. Oz, Lily, and Caydon are on another adventure but this time, even more danger awaits them. It turns out that their great, great, uncle created a chocolate phoenix that allows magical people to time travel. While time travel sounds like it would be fun, it is very serious business because history could be re-written. That's exactly what an evil witch, Alba, intends to do. She stole the phoenix to go back and time and free evil forces so that she can take over the world. Oz, Lily, and Caydon must try to stop her, with the help of their new friend and bodyguard, Silver, who is a vampire. Pick up this book today to find out what happens on their crazy adventure. (Photo credit: www.amazon.com)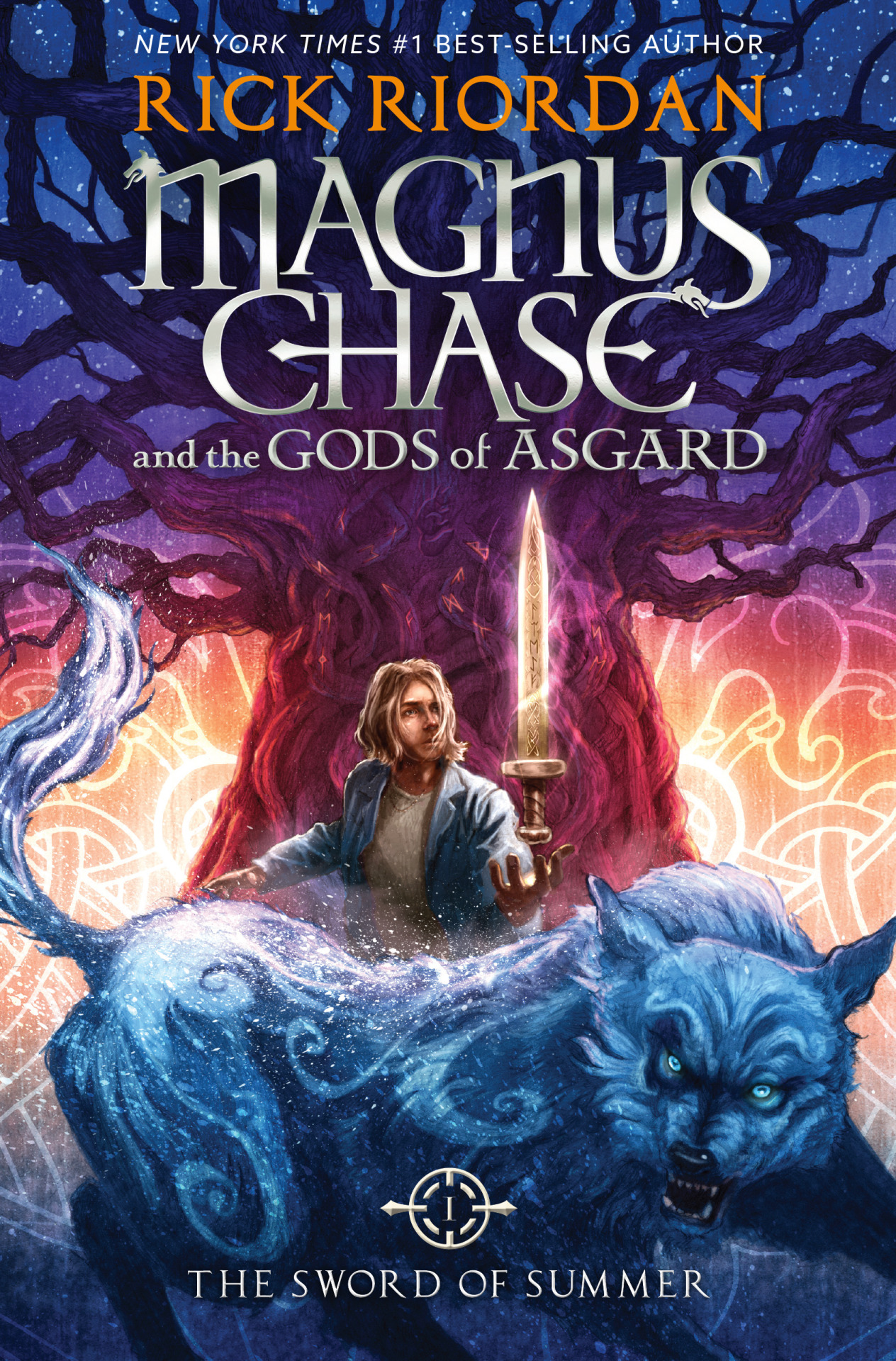 Magnus Chase and the Gods of Asgard: The Sword of Summer by Rick Riordan
*Please keep in mind that all of the reviews I post are just my personal opinions and do not necessarily reflect the beliefs of Ozark Regional Library.
This is the first book in Rick Riordan's new series based on Norse mythology. Not familiar with that? Have you heard of Thor? He is a Norse god. This book focuses on Magnus Chase, a homeless teenager who ran away after he saw his mother killed by wolves. He's on the street and someone is looking for him. Actually, more than one person is searching for him, but he doesn't know why. Magnus' life changes dramatically when he battles a fire god on a bridge in Boston. He has no idea what's happening, he just knows he needs to try to survive. Unfortunately, he dies but he takes the fire god down with him and saves a bunch of bystanders. Because of this heroic act, he is saved by a Valkyrie named Samirah and taken to Valhalla, a place where heroic warriors go when they die. This is the place where he learns about his family lineage and what he is destined to do: find the Sword of Summer. Throughout Magnus' quest, he meets friends, foes, gods, and has too many adventures to count. This book keeps you on the edge of your seat and left me wanting to find out what will happen in Magnus' next adventure.
This book is in our Juvenile collection but is fit for teens as well. It contains a lot of information on Norse mythology and has a helpful glossary in the back to help the reader remember all of the names and worlds mentioned. (Photo credit: www.wikia.com)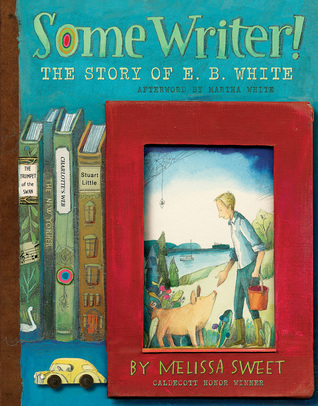 Some Writer! The Story of E.B. White by Melissa Sweet

This is one of the best biographies that I have ever read for children. It is colorful, informative, and it's about a writer that many people have grown to love. If you're not familiar with the name, perhaps you recognize these titles—Stuart Little or Charlotte's Web? E.B. White is the greater of these great works. Elwyn Brooks White loved words and it is because of his love of words that he had such a great life. He wrote for The New Yorker and other publications, wrote successful novels, and had a fulfilling personal life. This book takes you on a journey through this man's life that is revealing and encouraging to young readers that love words, just like E.B., or Andy, as his friends called him. With photographs, scans from original manuscripts, etc., this would make a great source for a report or just fun reading.

(Photo credit: www.goodreads.com)


How Mirka Caught a Fish by Barry Deutsch
There are currently three graphic novels that make up the Hereville collection. This book is the third in that collection. These graphic novels are very unique in that they feature an Orthodox Jewish girl named Mirka who can fight, time travel, and speak to animals. In this story, she is put in charge of babysitting her sister but everything goes wrong. Her sister is kidnapped by a magical, talking fish that has a grudge against the girls' mother. Mirka then must get help from various people and creatures. The graphic novel consists of bright images, but the language that is used is what sets it apart. The graphic novel consists of English and Yiddish (which is translated). Give this graphic novel a chance and if you like it, check out the other two: How Mirka Got the Sword and How Mirka Met a Meteorite.
Photo credit: www.goodreads.com
The Whizz Pop Chocolate Shop by Kate Saunders
"Twins Lily and Oz Spoffard have just inherited a house that contains a mysterious boarded-up chocolate shop on the ground floor. The twins' great-great-uncles were famous chocolatiers, and their chocolate was anything but ordinary. In fact, it was magical. Now an evil gang wants the secret recipe, and it's up to Lily and Oz to stop them. The fate of their family, and the world, depends on it." (Back cover of book)
This book is the kind of adventure story that many kids are looking for. There is magic, talking animals, weird creatures, chocolate, and a mystery to solve. What else could you want in a book? This book takes place in England so there is a little bit of slang that may be unfamiliar to readers, as well as places that are unfamiliar. I think that's part of the fun of the book though, since I have personally never been to England. Another aspect of the book that I like is the brother and sister dynamic. This makes the book relatable as well as perfect for a child of either gender to read. Fans of Charlie and the Chocolate Factory or Escape from Mr. Lemoncello's Library will most likely enjoy this book. (Photo credit: www.goodreads.com)
Anne of Green Gables by L.M. Montgomery
I tried to read this book as a child and failed.
However, picking it up as an adult, I absolutely
loved it!
I have no idea why I didn't like it when I first picked it up many years ago.
Anne is a spunky, young girl that has an amazing love for life.
She feels everything so deeply and has such a great heart that I found myself grinning from ear-to-ear many times while reading this book.
Anne is an orphan who comes to live with Matthew and Marilla at Green Gables.
Green Gables is a beautiful place, surrounded by brooks, meadows, forests, and much more.
At first, Anne has a hard time obeying Marilla and is always getting into trouble because she was not raised knowing manners.
She lacks education, good clothes, and is always complaining about her red hair.
However, as time goes by, Anne becomes a charming young lady, with many friends and is highly regarded by her neighbors, peers, and adopted family.
By working hard in school and at home, Anne shaped herself into a young lady that she is proud to be.
I look forward to reading the other books in this series to see what happens to Anne next.
Photo credit: aglassofmilk.wordpress.com