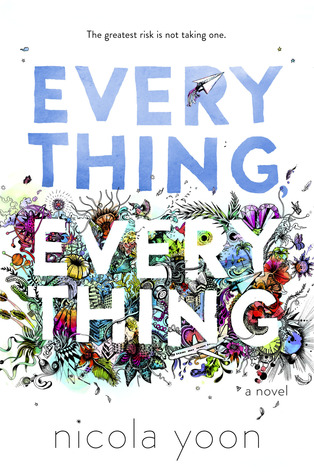 *Please keep in mind that all of the reviews I post are just my personal opinions and do not necessarily reflect the beliefs of Ozark Regional Library.
Everything Everything by Nicola Yoon
This is Nicola Yoon's debut novel and I like her writing style. This book tells the story of a girl named Madeline, her mom and nurse, and a boy named Olly. Madeline is very sick and has to live in a house that is completely sealed from pollutants. She has a nurse, Carla, with her all day, and her mom (who is a doctor) with her all night. She's not allowed to step foot outside and has spent her entire life this way. Madeline finds solace in books, movies, and games until a new family moves in across the street. That is when she sees Olly and her whole life changes. They begin communicating by email and then Madeline convinces Carla to let Olly come over as long as they don't touch and stay on opposites sides of the room. As you may have guessed, Madeline and Olly fall in love, but since Madeline can never leave her house, their relationship is hard to maintain. If you add to the situation that Olly's father is abusive and a drunk, then it becomes even harder. Madeline eventually risks everything to be with Olly and they have to deal with the consequences.
This book was a fun read and had a twist that I did not see coming. This book was also not as depressing as I thought it was going to be from the description the book provided. I would recommend this book to anyone that enjoys the works of John Green. (Photo credit: www.goodreads.com)
"The President Has Been Shot! The Assassination of John F. Kennedy by James L. Swanson
This account of John F. Kennedy's life, presidency, and assassination was written just for teens. It would be a great source for a book report or biography project. John F. Kennedy was the youngest president of the United States and was adored by many. Always by his side was his wife Jacqueline Kennedy. One day in Dallas, a disturbed man named Lee Harvey Oswald put in motion a plan to assassinate the president. This book details the events leading up to that horrible day and gives an account of the events immediately afterwards. While there is great speculation by some surrounding this event in history, this book sticks to the facts, providing photographs, information, a timeline, bibliography, and source notes. Swanson does write what he believes Oswald may have been thinking or what Jackie may have been thinking but he doesn't display his conjecture as fact. This book kept me interested and I was moved by many of the photographs included. (Photo credit: www.amazon.com)
Suicide Notes from Beautiful Girls
by Lynn Weingarten
Annotation from the Teens' Top Ten book groups:
"June and Delia were best friends who grew apart. Then, Delia commits suicide. Or, at least that's what others have been told. June believes her former best friend has been murdered, and she goes on a quest to find the truth…which, it turns out, is very complicated."
Suicide Notes from Beautiful Girls by Lynn Weingarten is a 2016 Teens' Top Ten book from YALSA (Young Adult Library Services Association). I can see why this book made it on this list. It's full of mystery, intrigue, twists, and turns. The reader begins thinking one thing and then comes to believe something completely different a few chapters down the road. June seems like a pretty normal teenage girl, with a pretty normal boyfriend, Ryan. June's old best friend, Delia, is wild and crazy, and one sometimes wonders how these girls used to be friends. When June is told that Delia committed suicide, she can't believe it; she's stricken with grief. However, when June finds out how Delia committed suicide, she starts to believe that her former best friend was murdered. June hunts to find the truth and finds out way more than she bargained for. While this book kept my interest until the last page, there were things that made the book less enjoyable for me. The book is filled with language, sexual references, and difficult topics, like murder, rape, suicide, etc. I would not recommend this book for young teens. However, if the reader can look past these last few things I mentioned, then I believe they will enjoy trying to figure out exactly what happened to June and Delia. (Photo credit: www.goodreads.com)
The Absolutely True Diary of a Part-Time Indian by Sherman Alexie

Sherman Alexie tells the story of Junior, a teenager growing up on the Spokane Indian Reservation. Junior was born with some physical ailments that set him apart from the crowd. He gets picked on a lot and his confidence has suffered because of that. However, he is quite smart and decides that his best chance of escaping a life of alcoholism and laziness is to go to the "white" school in the next town. Junior easily stands out at his school because of the way he looks but he grows to stand out for other reasons. He becomes a good basketball player and excels in academics. This story is about Junior, his family, his best friend, and the trials that teenage boys often go through. While I found this book easy to read, I was personally uncomfortable with all of the language and stereotypes used. This book is frequently challenged and banned in libraries and schools and the reasons are pretty obvious once the reader begins reading. However, it is a National Book Award winner and many teenage boys may find the character relate-able.
Note: This book is intended for high school students. The book is filled with cursing, sex, alcoholism, death, and racist remarks. (Photo credit: www.wikipedia.org)
Alive by Chandler Baker
Annotation from the Teens' Top Ten book groups:
"Stella Cross has received a heart transplant, but it has not stopped her emotional suffering. Then a mysterious boy named Levi Zin comes into her life. Stella's pain goes away whenever she's around Levi. However, Stella finds out a terrible secret about Levi. Can it be true?"
Alive is a 2016 Teens' Top Ten book from YALSA (Young Adult Library Services Association) and is a thrilling book that has many twists and turns. Stella is a typical teenage girl except for the fact that she has had a heart transplant. Every night at the exact same time, there is a terrible pain in her chest. She hides this pain from her family and friends because she doesn't want to face the reality that her new heart might not be compatible with her body. This story tells of Stella, her best friend Henry, and the new kid, Levi Zin, who Stella has completely fallen for. However, Levi isn't exactly who he appears to be. Weird things start happening to Stella that she can't explain. Her friends and family start to worry about her even more. Stella struggles to hold it all together and eventually has to face a reality that is terrifying. This book is filled with drama, paranormal occurrences, and teen romance. (Photo credit: www.goodreads.com)
Note: I would recommend this book for high school students. There is some mild language, a few sexual references, and some dark subject matter.