Echo
by Pam Munoz Ryan.
Scholastic, 2015.
Pam Munoz Ryan is one of my favorite authors.
Echo
does not disappoint.
Echo
relates the stories of four different children in different times and places.
Otto, lost and alone in a forest, meets three mysterious sisters and finds himself in a quest involving a prophecy, a promise, and a harmonica.
Decades later, Friedrich in Germany, Mike in Pennsylvania, and Ivy in California also become intertwined when the harmonica lands in their lives.
All the children face daunting challenges in seemingly unrelated stories, which ultimately converge in a satisfying ending.
This is a book for anyone who enjoys historical fiction with a touch of the uncanny.
I recommend
Echo
to readers 5
th
grade and up.
You may also enjoy reading some of her other books including
Paint the Wind, Becoming Naomi Leon,
and
Esperanza Rising.
Leviathan
by Scott Westerfield.
Simon Pulse, 2010.
Leviathan
takes place during World War I, but this is history like you've never heard of before!
In an alternate world, Europe is divided into the Clankers and Darwinists.
Clankers are steampunk-based society, and Darwinists have manipulated the genes to fabricate animals that serve mankind.
Alec, heir to the Austria-Hungary throne is orphaned when his parents are assassinated, and is whisked away into hiding by his tutors.
Deryn is a Scottish girl wild about flying.
Disguising herself as a boy, she joins the British Air Service.
Aboard the Leviathan, a flying machine bioengineered from a whale and hundreds of other species, she embarks on an adventure which has her on a collision course with Alec.
The first in a trilogy,
Leviathan
is non-stop action from start to finish!
If you like history, steampunk, or science fiction, I recommend
Leviathan
for readers 5
th
grade and up.
The Blue Sword
by Robin McKinley.
Greenwillow, 1982.
Sometimes I just want to re-read an old favorite.
I first read
The Blue Sword
when it won the Newbery Award in 1983, and have revisited it several times, most recently last week.
The Blue Sword
begins with Angharad (Harry) Crewe having just been orphaned and joining her brother Richard in the remote desert outpost Damar.
Richard is a soldier in Her Majesty's Army; that country is never named but referred to as Home.
The nearby unconquered Hill people are led by their King Corlath, who visits the army base warning about and asking for help from the demonic invaders of the North.
Compelled by his hereditary magical power
kelar
, Corlath kidnaps Harry.
She is trained to be a Hill warrior, becomes one of the King's Riders, and presented with an ancient sword once wielded by the Damarian queen Aerin.
As the coming battle with the Northerners approaches, Harry is torn between her need to warn the Homelanders and her love for her new people.
I recommend this book and its companion novel The Hero and the Crown to readers grade 5 and up.
Dumplin'
by Julie Murphy.
Harper Collins, 2015.
Willowdean Dickson is a self-proclaimed fat girl.
She's mostly okay with her size.
But her self confidence begins to waver when she finds herself attracted to Bo, and confused when he seems to reciprocate the feeling.
Willowdean (nicknamed Dumplin' by her mother) is further stressed by the recent death of her beloved Aunt Lucy, her former beauty queen mother's obsession with the town's beauty pageant, and the fact that her best friend seems to be drifting apart from her.
Willowdean sets out to boost her confidence by doing the most shocking thing she can think of: entering in the Miss Teen Blue Bonnet Pageant.
Along with several other unlikely candidates, she sets out to show the world that it's not just the pretty, thin girls that deserve the recognition.
This brilliant and sweet book is about romance, girl-power, positive body-image, and friendship.
Multi-faceted characters give a depth to teens and their lives that adults can often miss.
Oh, and did I mention Willowdean's fangirling of Dolly Parton?
The book contains sexual content and graphic language, so I would recommend this book to most teen readers.
Aurora Rising
by Amie Kaufman and Jay Kristoff.
Alfred A. Knopf, 2019.
The year is 2380.
Aurora Academy star pupil Tyler Jones expects to recruit his new squad, which will include his twin sister Scarlett and life-long friend Cat.
On the night before the Draft, he takes a ship out into space where he finds a 200-year-old derelict ship with one survivor.
In saving the girl, he misses his chance to choose the best of the cadets and is given the leftovers: an alien warrior, a sociopathic scientist, and a smart aleck tech whiz.
But now he and his rag-tag team must rescue the girl again, and in doing so uncover a two centuries old political cover up of galactic proportions.
With nods to
Star Wars
and
Firefly, Aurora Rising
is entertaining, funny, and exciting to read.
The misfit crew of losers and discipline cases make for interesting characters, pulling together to save the universe against authority, criminals, and themselves.
I'm ready for the sequel!
Mild language and mild sexual content make this an appropriate read for most young adult readers.
*Please keep in mind that all of the reviews I post are just my personal opinions and do not necessarily reflect the beliefs of Ozark Regional Library.
Wires and Nerve
by Marissa Meyer, illustrated by Doug Holgate.
Feiwel and Friends, 2017.
If you're a fan of Marissa Meyer's Lunar Chronicles and were left wanting more, check out
Wires and Nerve
, a graphic novel set immediately after the conclusion of The Lunar Chronicles.
The major players…Cinder, Scarlet, Cress, Winter, and the rest of the Rampion crew make appearances, but the main character is Iko, the android with the heart of gold.
Iko's mission is to hunt down rogue packs of hybrid wolves, who are jeopardizing the tenuous peace between Earth and Luna.
Although the story is about friendship, romance, loyalty, and fairy tales, the author also touches on more serious topics: trauma, slavery, and power.
The graphic novel format brings to life the characters in a new and exciting way to readers.
Note: The beginning of the book recaps the series, so it's possible for a new reader to enjoy the story.
However, I recommend that you read the entire Lunar Chronicle for the most enjoyable experience.
Recommended for readers grade 6 and up.
Everything Everything by Nicola Yoon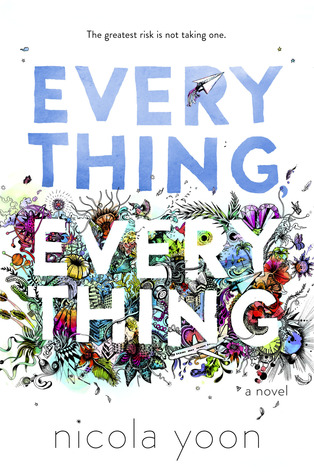 This is Nicola Yoon's debut novel and I like her writing style. This book tells the story of a girl named Madeline, her mom and nurse, and a boy named Olly. Madeline is very sick and has to live in a house that is completely sealed from pollutants. She has a nurse, Carla, with her all day, and her mom (who is a doctor) with her all night. She's not allowed to step foot outside and has spent her entire life this way. Madeline finds solace in books, movies, and games until a new family moves in across the street. That is when she sees Olly and her whole life changes. They begin communicating by email and then Madeline convinces Carla to let Olly come over as long as they don't touch and stay on opposites sides of the room. As you may have guessed, Madeline and Olly fall in love, but since Madeline can never leave her house, their relationship is hard to maintain. If you add to the situation that Olly's father is abusive and a drunk, then it becomes even harder. Madeline eventually risks everything to be with Olly and they have to deal with the consequences.
This book was a fun read and had a twist that I did not see coming. This book was also not as depressing as I thought it was going to be from the description the book provided. I would recommend this book to anyone that enjoys the works of John Green. (Photo credit: www.goodreads.com)
"The President Has Been Shot! The Assassination of John F. Kennedy by James L. Swanson
This account of John F. Kennedy's life, presidency, and assassination was written just for teens. It would be a great source for a book report or biography project. John F. Kennedy was the youngest president of the United States and was adored by many. Always by his side was his wife Jacqueline Kennedy. One day in Dallas, a disturbed man named Lee Harvey Oswald put in motion a plan to assassinate the president. This book details the events leading up to that horrible day and gives an account of the events immediately afterwards. While there is great speculation by some surrounding this event in history, this book sticks to the facts, providing photographs, information, a timeline, bibliography, and source notes. Swanson does write what he believes Oswald may have been thinking or what Jackie may have been thinking but he doesn't display his conjecture as fact. This book kept me interested and I was moved by many of the photographs included. (Photo credit: www.amazon.com)
Suicide Notes from Beautiful Girls
by Lynn Weingarten
Annotation from the Teens' Top Ten book groups:
"June and Delia were best friends who grew apart. Then, Delia commits suicide. Or, at least that's what others have been told. June believes her former best friend has been murdered, and she goes on a quest to find the truth…which, it turns out, is very complicated."
Suicide Notes from Beautiful Girls by Lynn Weingarten is a 2016 Teens' Top Ten book from YALSA (Young Adult Library Services Association). I can see why this book made it on this list. It's full of mystery, intrigue, twists, and turns. The reader begins thinking one thing and then comes to believe something completely different a few chapters down the road. June seems like a pretty normal teenage girl, with a pretty normal boyfriend, Ryan. June's old best friend, Delia, is wild and crazy, and one sometimes wonders how these girls used to be friends. When June is told that Delia committed suicide, she can't believe it; she's stricken with grief. However, when June finds out how Delia committed suicide, she starts to believe that her former best friend was murdered. June hunts to find the truth and finds out way more than she bargained for. While this book kept my interest until the last page, there were things that made the book less enjoyable for me. The book is filled with language, sexual references, and difficult topics, like murder, rape, suicide, etc. I would not recommend this book for young teens. However, if the reader can look past these last few things I mentioned, then I believe they will enjoy trying to figure out exactly what happened to June and Delia. (Photo credit: www.goodreads.com)
The Absolutely True Diary of a Part-Time Indian by Sherman Alexie

Sherman Alexie tells the story of Junior, a teenager growing up on the Spokane Indian Reservation. Junior was born with some physical ailments that set him apart from the crowd. He gets picked on a lot and his confidence has suffered because of that. However, he is quite smart and decides that his best chance of escaping a life of alcoholism and laziness is to go to the "white" school in the next town. Junior easily stands out at his school because of the way he looks but he grows to stand out for other reasons. He becomes a good basketball player and excels in academics. This story is about Junior, his family, his best friend, and the trials that teenage boys often go through. While I found this book easy to read, I was personally uncomfortable with all of the language and stereotypes used. This book is frequently challenged and banned in libraries and schools and the reasons are pretty obvious once the reader begins reading. However, it is a National Book Award winner and many teenage boys may find the character relate-able.
Note: This book is intended for high school students. The book is filled with cursing, sex, alcoholism, death, and racist remarks. (Photo credit: www.wikipedia.org)
Alive by Chandler Baker
Annotation from the Teens' Top Ten book groups:
"Stella Cross has received a heart transplant, but it has not stopped her emotional suffering. Then a mysterious boy named Levi Zin comes into her life. Stella's pain goes away whenever she's around Levi. However, Stella finds out a terrible secret about Levi. Can it be true?"
Alive is a 2016 Teens' Top Ten book from YALSA (Young Adult Library Services Association) and is a thrilling book that has many twists and turns. Stella is a typical teenage girl except for the fact that she has had a heart transplant. Every night at the exact same time, there is a terrible pain in her chest. She hides this pain from her family and friends because she doesn't want to face the reality that her new heart might not be compatible with her body. This story tells of Stella, her best friend Henry, and the new kid, Levi Zin, who Stella has completely fallen for. However, Levi isn't exactly who he appears to be. Weird things start happening to Stella that she can't explain. Her friends and family start to worry about her even more. Stella struggles to hold it all together and eventually has to face a reality that is terrifying. This book is filled with drama, paranormal occurrences, and teen romance. (Photo credit: www.goodreads.com)
Note: I would recommend this book for high school students. There is some mild language, a few sexual references, and some dark subject matter.